| | |
| --- | --- |
| | TWT-UV-4 Ultraviolet Light Disinfection System with Capacity up to 1 Gallon Per Minute |
| | |
| --- | --- |
| | TWT-UV-250 Ultraviolet Light Disinfection System with Capacity up to 4 Gallons Per Minute |
| | |
| --- | --- |
| | TWT-UV-5000 Ultraviolet Light Disinfection System with Capacity up to 53 Gallons Per Minute |
TWT-UV-5007 Ultraviolet Light Disinfection System with Capacity up to 200 Gallons Per Minute

TWT Ultraviolet System Accessories
Watchguard your UV treatment with monitoring solutions

Which system do I need?

Which system you use should be determined by the rate of water flow in your pipes. If you do not know what the gallons per minute (gpm) rate of water flow in your home or facility is, please contact your plumber or maintenance supervisor for this information
Combined UV and Deposit Control Systems for Maximum Continuous Ultraviolet Effect
Ultraviolet water quality control is only effective to the extent that the UV output can reach its target, your water. UV light bulbs, the source of UV disinfection treatment, are designed to be covered by quartz sleeves. These sleeves often develop a film which reduces the effectiveness of your UV treatment, and which requires an acid wash to clean. Keep your UV bulbs and quartz sleeves working effectively, and keep manual cleaning requirements to a minimum, with a TWT combined UV / Deposit Control System, a reliable, economical treatment solution which reduces or eliminates the need for acid wash.
We recommend that the Ultraviolet Disinfection System be installed downstream of a Triangular Wave Deposit Control System. The Deposit Control will keep the UV Disinfection System electrodes free of scale and other deposits for more effective results. And, at the same time, the Deposit Control System will help eliminate scale and bio-film deposits through the entire water system.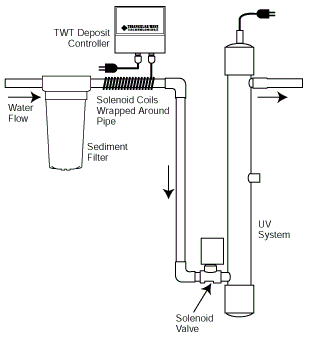 Without the Triangular Wave Deposit Control System in place, the quartz sleeve may develop either a layer of scale or slime. In either case, it is necessary to periodically clean the quartz sleeve with an acid solution. The Deposit Control System reduces or eliminates the need for periodic cleaning.
The Triangular Wave Ultraviolet Disinfection Systems offer the following benefits:
Quartz sleeve scale prevention when installed with the Triangular Wave Deposit Control System
Universally accepted disinfection system for potable and non-potable water systems
No residual substances in the water, such as chlorine, ozone, or other chemicals
Disinfection without using chemicals
No production of trihalomethanes
Does not remove beneficial minerals
Immediate treatment without the need for holding tanks
Minimal maintenance of UV system, when installed with the Triangular Wave Deposit Control System
Low power consumption
Reduces or eliminates biofilm and the bacterial causes of bio-corrosion in water systems
Eliminates the need for biocides and thus eliminates their associated safety issues
Safe to use
Economical to use
Easily installed by a qualified plumber
Most importantly, eliminates many conditions proven harmful to humans
Although the savings of chemical and maintenance costs can certainly be a consideration in the use of the TWT Ultraviolet and Deposit Control Systems when determining return on investment, no price can be put on health, safety, and peace of mind.
Important: If you do not see the red Navigation bar at the top of this screen, please go to www.triangularwave.com and then click Refresh or Reload in your browser.