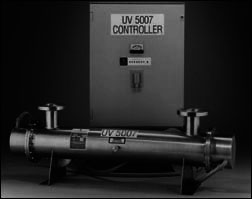 The industrial-sized, skid-mounted UV-5007 Sterilizer can assure a ready supply of safe, pathogen- free water for manufacturing processors or human consumption. Applications include water bottling plants, breweries or any other type of liquid processing. With the capacity to remove disease-causing micro-organisms effective to a 99.9% kill rate at 200 GPM (820 LPM), you can eliminate the need for chemicals and reduce high overhead costs. TWT has the technical expertise to assess your water problems and when needed, pre-filtration systems may be added to the UV-5007 sterilizer. Environmental safety is our priority, therefore no chemicals are added and the pH balance of the water is unaffected by UV sterilization.

TWT Sterilizers operate continuously and automatically. There is no need to heat or cool the water prior to sterilization and the system are inexpensive to operate. TWT units are simple to install. The germicidal lamp work effectively for 8,000 hour and replacement is accomplished in minutes.

SPECIFICATIONS
TWT UV-5007
Rated Flow: 865 liters per minute 220 gallons per minute
UV Dose @ Rated Flow:52,200 MW/sec/cm2
Number of lamps:7
Electrical Supply: 120V/60/Hz/.3 Amp
240V/50Hz/.2 Amp
Power Consumption:610 watts
Maximum Operation Temerture:37 C (98.6F)
Maximum Operating Pressure:125 psi- 8.6 Bar
Plumbing: 3" Flange In-Out
Unit Dimensions: 19.6" x 12.2" x 56"( 50cm x31cm x142cm)
Controller Dimensions: 33.6" x 25.2" x 12" (85cm x64cm x30cm)
Unit Weight:128lbs (58kg)
Controller Weight:60lbs (27kg)
Body:316 stainless steel
We recommend that the Ultraviolet Disinfection System be installed downstream of a Triangular Wave Deposit Control System. The Deposit Control will keep the UV Disinfection System electrodes free of scale and other deposits for more effective results. And, at the same time, the Deposit Control System will help eliminate scale and biofilm deposits through the entire water system.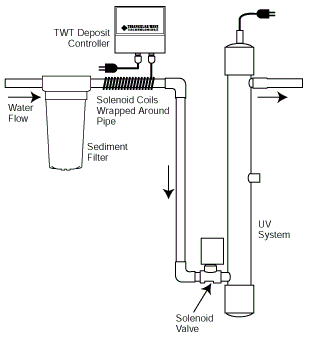 Without the Triangular Wave Deposit Control System in place, the quartz sleeve may develop either a layer of scale or slime. In either case, it is necessary to periodically clean the quartz sleeve with an acid solution. The Deposit Control System eliminates the need for periodic cleaning.