The UV-4 is a point-of-use sterilizer designed for many different applications. It can be combined with a Triangular Wave under-counter filtration system or a reverse osmosis system. A popular application for the UV-4 is as part of a water cooler at point-of-use. The UV-4 is ideally designed for use in cottages, on board ships, or in RV's. In areas where standard electricity is not available, the UV-4 can be ordered as a 12V DC unit. The ultraviolet sterilizer destroys bacteria and viruses at a 99.9% rate.

SPECIFICATIONS
UV-4
Rated Flow: 3.75 Liters per minute 1 Gallon per minute
UV Dose @ Rated Flow: 29,500 mw/sec/cm2
Maximum Flow: 5.8 Liters per minute
UV Dose @ Maximum Flow: 18,500 mw/sec/cm2
Electrical Supply: 120V / 60Hz I 0.6 Amp 240V / 50Hz / 0.6 Amp
Power Consumption: 12 Watt
Maximum Operating Temperature: 370C
Maximum Operating Pressure: 100 psi - 7 Bar
Plumbing: 1/4" NPT In-Out
Size: 12" x 2.5" (30cm x 6.5cm)
Weight: 2.2 lbs (1 kg)
Body: 316 Stainless Steel
We recommend that the Ultraviolet Disinfection System be installed downstream of a Triangular Wave Deposit Control System. The Deposit Control will keep the UV Disinfection System electrodes free of scale and other deposits for more effective results. And, at the same time, the Deposit Control System will help eliminate scale and bio-film deposits through the entire water system.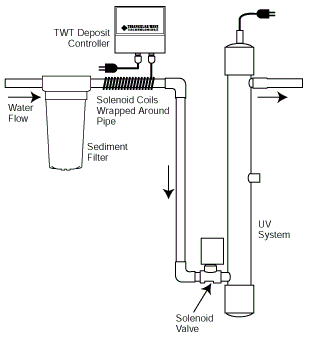 Without the Triangular Wave Deposit Control System in place, the quartz sleeve may develop either a layer of scale or slime. In either case, it is necessary to periodically clean the quartz sleeve with an acid solution. The Deposit Control System eliminates the need for periodic cleaning.